Super73 Electric Bikes: Blending Style and Performance for the Modern Rider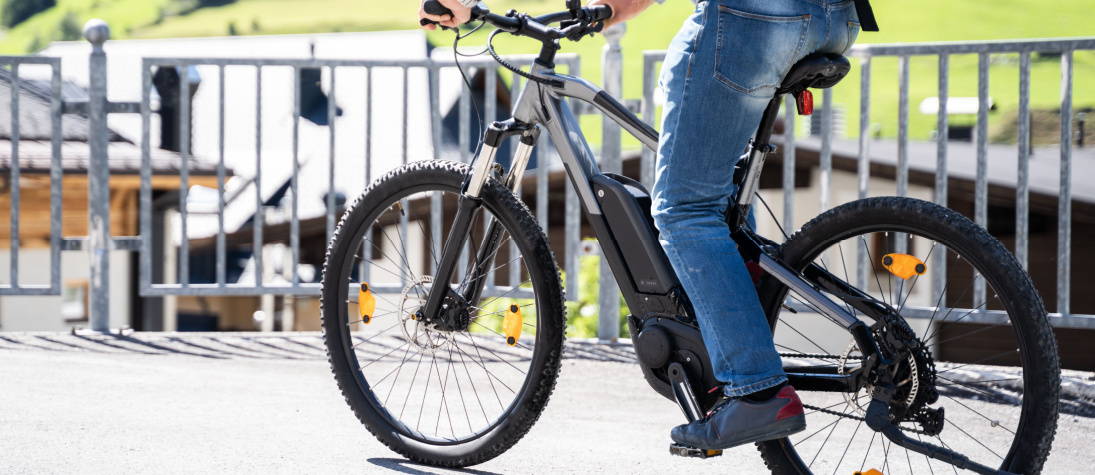 Super73 is an American electric bike manufacturer and lifestyle brand. Super73 originally distinguished itself by popularizing scrambler electric bikes, a specific category of off-road e-bikes resembling classic motorcycles made in the 1970s.
Today, Super73 electric bikes are the ideal blend of performance, unique style, and all-terrain capabilities. The brand's e-bikes are recognizable by their uniquely shaped rectangular frames and sturdy construction.
Upway is proud to be a direct partner of Super73. We offer a complete range of Super73 new and used e-bikes, and we have access to a complete range of spare parts. The brand has also certified our mechanics, ensuring our tuning process meets the manufacturer's requirements.
Discover what makes Super73 e-bikes unique and shop the best pre-owned Super73 e-bikes at Upway.


The Rise and History of Super73
The story of Super73 started in 2016 when John Kim, Michael Cannavo, John Akers, and Aaron Wong founded the company in Orange County, California. The company's founders previously worked at Honda, Yahoo, and P&G and had experience launching products and managing bike and scooter start-ups. The newly-founded company was known as Lithium Cycles, starting with a crowdfunding campaign on Kickstarter.
The campaign had a funding goal of $25,000 and advertised the original Super 73' electric bike as a rugged, hybrid-surface e-bike. The bike's name and style are reminiscent of the scrambler motorcycles and mini-bikes from the 1970s.
The Original Super73 E-Bike
The design of the first Super73 bike included a distinctive, rectangular tube frame and fat all-terrain tires. This design formed the basis for subsequent products, becoming part of the unique Super73 look.
Soon after launching, the Super 73' Kickstarter campaign rapidly exceeded its goal, reaching $441,461 from nearly 300 backers. The successful launch allowed Lithium Cycles to start e-bike production in a 4,000-square-foot manufacturing space in Orange County, California. The company started shipping to customers in the United States, Canada, Australia, New Zealand, Japan, and Europe.
Biking enthusiasts worldwide responded positively, describing the new e-bike as a powerful, capable machine with a stylish, retro-inspired look. Some outlets even described it as rugged enough for the post-apocalypse. The 1,000 W electric motor can help riders reach a top speed of up to 35 mph with pedal assist and enjoy electric-assisted rides of up to 20 miles.
After Lithium Cycles rebranded itself to Super73 and began producing new e-bikes, the original model was renamed Super73-OG. This model had two variations: the original, designated OG1, and a variant, the OG2, which featured an optional front-wheel suspension system, increasing its all-terrain capabilities.
The Content Creator's Bike
Following the successful launch of the Super73-OG, the company began producing new models and partnering with social media influencers and celebrities to promote the latest products.
In October 2017, the company launched one of its most well-known promotional projects in New York City. Super73 produced one-of-a-kind e-bikes designed after Star Wars's famous speeder bikes, as featured in Episode VI: Return of the Jedi. Many YouTube influencers, including Casey Neistat and Jesse Wellens, prominently featured the bikes on their channels, solidifying Super73's reputation as a modern content creator's e-bike.
In June 2018, Super73 launched its second model, the Super73-S1. Like the OG, it features a rugged tubular frame, hydraulic disc brakes, and a design inspired by 1970s motorcycles. The new model was lighter and used a smaller 500 W motor and an improved 696 Wh battery pack. These specifications allowed the new e-bike to reach ranges of up to 40 miles and a nominal top speed of 20 mph.
Model Line Expansion and Further Collaborations
Super73 continued collaborating with celebrities and influencers throughout 2018. In May of the same year, actor and rapper Will Smith posted a video of himself riding the Super73 S1 on his Instagram account. The post went viral, receiving over 13.7 million views as of October 2023 and drawing further attention to the brand and its products.
In November 2018, Super73 introduced a third model family, the Z-series, and its introductory model, the Super73-Z1. This e-bike featured a 500 W motor mounted to the front hub, an affordable banana-shaped saddle, and a maximum range of 20 miles. As the Z-series was intended to be the brand's line of electric bikes, this model initially had an MSRP of approximately $1,000.
In 2019, Super73 partnered with the Paris Saint-Germain (PSG) French football club, launching a limited-edition version of the Z1 to celebrate the team's 50th anniversary. It marked the first time Super73 collaborated with another major brand and the first limited-edition Super73 e-bike model to hit the market.
As an official Super73 partner, Upway carries a large selection of certified pre-owned Super73 e-bikes. Shop our inventory and benefit from the brand's rugged products for up to 60% off their original sticker price.
Super73 S1
The Super73 S1 electric bike is one of the brand's most well-known, as made famous by Will Smith's 2017 Instagram post.
Introduced after Lithium Cycles rebranded itself, the S1 is the successor to the original Super73-OG e-bike, featuring a similarly designed tubular steel frame and fat tires. This makes it one of the longest-lived models in Super73's product catalog.
The Super73 S1 is a city-hybrid bike suitable for all surfaces. It features a pair of 20" wide, 4" thick tires with deep treads, allowing you to ride comfortably on asphalt, dirt, grass, or gravel. Its hydraulic disk brakes provide plenty of stopping power, letting you navigate the city or the off-road path confidently.
As a simple, rugged e-bike designed to be as durable as possible, it features a simple chain-driven single-gear transmission. The 35 Nm electric motor delivers power through the rear wheel hub, letting you reach up to 20 mph. Its 696 Wh detachable battery pack has enough power for 40 miles of riding.
Super73 S2
The Super73 S2 is part of the same S-series product line as its predecessor, the S1. This model retains the distinctive rectangular tube frame, single-gear transmission, fat tires, and unique Super73 look. However, the S2 has various changes and improvements, making it suitable for different riding experiences.
The most significant change is a newer, higher-capacity battery pack. At 960 Wh, the S2's battery holds almost 40% more energy than the S1. It powers a 750 W electric motor installed on a lightweight aluminum tube frame, replacing the S1's tube steel.
These changes ensure the Super73 S2 is a lightweight e-bike suitable for long-distance rides, up to 75 miles, depending on electric assist level and riding habits. Its unique frame size suits riders between 4'10" and 6'6" in height, making it a good fit for e-bike enthusiasts of nearly any age and skill level.
Another significant change is the tires. While the S2 is still fitted with fat tires, this model has Vee BDGR 4.5" tires and rugged, medium-depth treads. These durable tires are suited for riding on any surface in an urban environment, from asphalt and concrete to dirt, grass, gravel, and other uneven terrain.
Super73 ZX
The Super73 ZX is part of the simpler and more affordable Super73 Z-Series product lineup. While these models are designed with simplicity in mind, the ZX still comes with a complete range of features to maximize your riding experience.
As with other Super73 e-bikes, this model features a distinctive pair of 20" wide fat tires. The tires fitted to the ZX are Vee Troopers, featuring V-shaped shallow treads and anti-puncture technology. While this tread pattern is primarily intended for city riding and may not provide as much grip as the all-terrain tires on an S1 or S2, the ZX's tires are engineered for maximum longevity, providing riders with a safe and comfortable ride for thousands of miles.
City commuting e-bikes are intended to be as lightweight and practical as possible, and the ZX is no exception. With its lightweight frame, it weighs in at only 62 lbs. Its robust 750 W, 45 Nm electric motor propels you to a top speed of 20 mph in no time.
As a Class 2 e-bike, two assist modes are available: standard pedal assistance, which helps make pedaling easier, and throttle assist, letting you ride in complete comfort. The manufacturer's estimated range is approximately 30 miles in throttle assist mode and 50 miles in the ECO pedal assist mode.
Super73 R
If you need a performance-oriented electric bike, look no further than the Super73 R-series. The product family's flagship model, the Super73 R, is primarily designed for all-terrain and off-road adventuring. The frame keeps the rectangular tubular structure while promoting a forward-leaning riding position.
Under the saddle, you'll find one of the key features of the Super73 R: its rear coilover shock absorber. When paired with the adjustable air suspension in the front, the Super73 R's suspension system will keep you comfortable no matter how rough the terrain becomes.
The Super73 R features the same combination of a 750 W electric motor and 960 Wh battery pack as the Super73 S2. These features let you enjoy similar range and acceleration power, with pedal or throttle assistance in four different riding modes. Whether you prefer more adventurous excursions or leisurely rides, your Super73 R lets you stay in control.
Super73 RX Mojave
The Super73 RX Mojave is another model in the high-performance R-series and an ideal choice for riders looking to go off-roading. Although this model shares the same frame shape, materials, and design as the standard Super73 R, it incorporates several modifications to enhance its off-road and mountain biking performance.
The most significant change compared to the standard R is the tires. While they are still trademark 20" wide 4" thick fat tires, the RX Mojave features deep-tread off-roading Vee tires. They allow the RX Mojave to easily ride on the harshest terrain and up the steepest hills, making it the perfect companion for your adventures.
The RX Mojave also features a set of mudguards, one above the front tire and two surrounding the rear tire, where the electric motor is located. They help keep you protected from splashing water, mud, and other debris and shield the motor from gravel projections.
As with other Super73 models, you can choose between pedal and throttle assists and reach up to 20 mph with electric assistance.


Shop Super73 Electric Bikes at Upway
Since launching its inaugural model in 2016, Super73 has consistently stood out in the e-bike industry. Super73 e-bikes combine retro-inspired aesthetics with reliable performance, ensuring versatility across various terrains and surfaces.
Are you looking to find electric bikes for sale? Check out Upway's selection of Super73 e-bikes. We carry numerous certified pre-owned models from the company's entire product catalog. Whether you need a rugged hybrid S-series e-bike, an affordable Z-series model, or a high-performance R-series, we have the e-bike you need.
At Upway, we stand behind every product we sell. All our e-bikes are Upway Certified, ensuring they pass our stringent quality standards. Each pre-owned e-bike receives a complete 20-point mechanical and electronic inspection, including repairs and replacement of all relevant parts. Our process is certified by Super73, meaning that every bike we sell has received the manufacturer's approval.
Selling your bike to Upway guarantees a reliable, hassle-free, trustworthy way to sell your electric bike and it will take you online 2 minutes!