Best Electric Bike for Families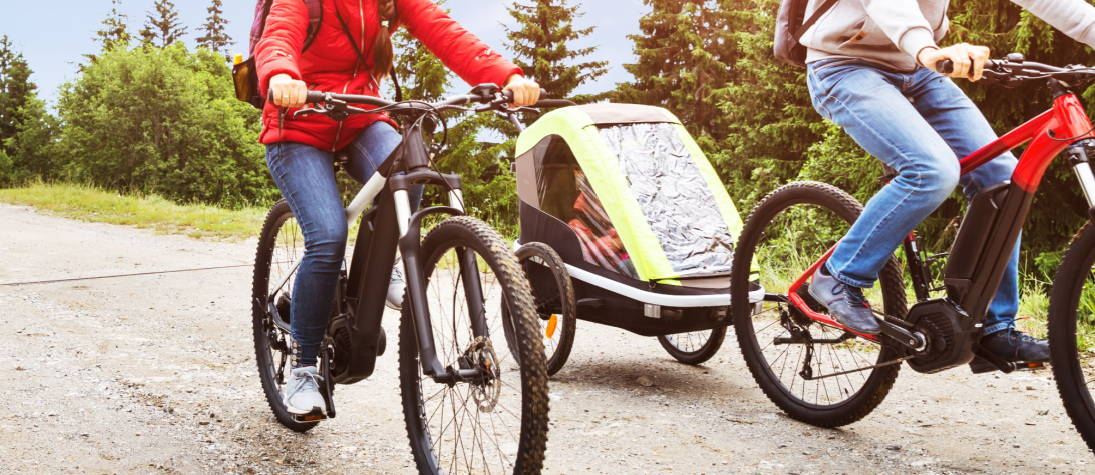 Electric bikes are an efficient means of transportation and an eco-friendly alternative to a car or motorcycle. When it comes to family outings and everyday commutes, electric bikes provide a convenient and enjoyable solution.
With their ability to assist riders with pedaling and enhanced carrying capacity, electric bikes have become a practical choice for families seeking a sustainable and versatile mode of transportation.
From spacious cargo mounts to child seat compatibility, an electric bike is perfect for your family outing. Make your next family trip one that's eco-friendly and comfortable with affordable electric bikes.


The Best Electric Bikes for Families
The best family electric bikes focus on safety, ease of riding and cargo carrying capacity. When it comes to the best electric bikes for families, several models stand out for their impressive features, versatility and reliability.


Types of Electric Bike Batteries
There are several types of bike batteries offering varying capacities and power levels. The right battery for your bike depends on how frequently you ride, the terrain you travel, and whether you carry passengers or cargo. Some of the most common battery types include:
Urban Arrow is an e-bike brand that focuses on electric cargo bikes. Their flagship model, the Urban Arrow Family, is specifically designed for families. Its comfortable seat and cargo hauling unit allows it to easily carry up to four people or large quantities of cargo. According to the manufacturer, the Family e-bike can support up to 550 lbs. in combined cargo and passengers.
The Urban Arrow Family features a top-quality Bosch Cargo Line electric motor. It is designed for cargo-hauling e-bikes, featuring a maximum torque output of 85 Nm. The Urban Arrow Family features a 500 Wh battery pack, a unique single-speed Enviolo transmission and a maximum range of about 31 miles.


Riese and Muller Load 75 Vario HS
The Riese and Muller Load 75 Vario HS is designed as a
cargo e-bike
with the cage in front of the driver instead of behind them. The Riese and Muller's design and motor placement give it a low center of gravity to maintain balance as you carry large amounts of cargo.
The ample cargo space can fit up to three child seats if necessary and the Bosch PowerPack 500 Wh performance battery allows it to travel long distances. If you plan on
carrying large, oversized or irregularly shaped cargo
, consider opting for one of the models with sidewalls to prevent anything from falling out.
The Tern GSD S10 is the flagship cargo e-bike from Tern. It features a high-performance Bosch Cargo Line motor and an extra-long cargo rack. Riders can configure the GSD S10's rack to transport extra-long and heavy cargo or passengers.
It is rated to support up to 440 lbs., making it ideal for transporting your family, groceries or even sports gear. The GSD S10 is powered by Bosch's patented dual-battery 400/900 Wh system, giving it a maximum range of 121 miles and making it the ideal city-cruising cargo e-bike.
The
Benno Boost E 10D
is a flexible cargo e-bike that offers triple the load capacity of a standard bicycle. Crafted for functionality and style, you'll get the look of a traditional bike with the carrying capacity of some of the best cargo models.
The Bosch PowerPack 500 Wh battery pack is mounted near the center of the frame, giving it a low center of gravity. It can keep the E 10D powered for up to 160 miles and can be recharged from empty to 100% in just 4.5 hours.
Blix electric bikes
are designed with style and ease of use without compromising comfort and storage capacity. For example, Blix cargo e-bikes such as the Packa feature storage racks that can support up to 400 lbs. of load capacity or up to two passengers.
The Blix Packa's cargo racks are fully modular, letting the rider customize their e-bike with a range of accessories designed to transport various cargo types. Their frame design is unique and intended to fit riders from 5'1" to 6'3", making it suitable for people of almost any height.
A Seattle-based company founded in 2007,
Rad Power
was the garage invention of Mike Radenbaugh, who designed the first battery packs himself. The first-generation RadRover model became a commercial success and the first of a long line of innovative e-bike products.
While they are primarily known for their fat-tire e-bikes that can conquer any terrain, Rad Power also produces a range of cargo e-bikes, such as the RadWagon.The Rad Power RadWagon features a unique elongated frame, a battery pack mounted in the center-front and up to 350 lbs. of maximum cargo capacity or approximately two adult passengers.


Find Your New E-bike at Upway
Have you ever asked yourself, "
Should I get an electric bike?
" At Upway, we believe electric bikes are a cost-effective means of transportation that can help you become healthier and more environmentally friendly.
We carry a wide range of certified
used electric bikes
suitable for any application, including cargo and family e-bikes. Browse our range of models from the world's top manufacturers and benefit from the Upway Certified guarantee. When you buy from Upway, you are getting a product that has been
reviewed, tested and certified
by our skilled technicians to ensure they meet our quality standards.
Upway offers the widest range of certified pre-owned electric bikes, reconditioned by professional mechanics.
Thanks to Upway, you'll get a great electric bike at a price that's 20-60% off retail, with a one-year warranty!