Aventon Electric Bikes: Performance, Style and Innovation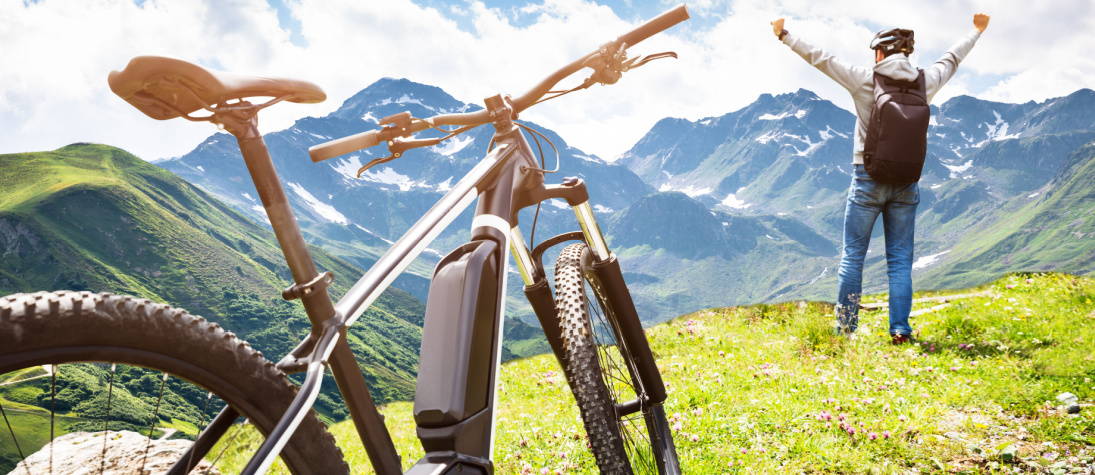 Aventon is an American manufacturer of non-powered and electric bicycles. Founded by JW Zhang in 2012, the company moved into the electric bike market in 2018 with the introduction of the first Aventon e-bike, the Pace 500. Today, Aventon's e-bike products are known for their performance, focus on technological innovation, stylish designs and practicality on all surfaces.
Upway carries a large inventory of Aventon electric bikes for sale. Whether you need an e-bike for cruising the city, an electric mountain bike (eMTB) for outdoor adventures or a convenient folding e-bike, we have the e-bike models you're looking for.


The History of Aventon Bikes
Aventon's founder, JW Zhang, was born in China to parents in the manufacturing industry. From his childhood in China to his first time visiting the United States, he understood how important the bicycle was as a daily method of transportation for riders of all ages.
JW's entrepreneurial spirit brought him to Los Angeles, California, where he started Aventon Bikes in 2013. Initially a one-person business, JW managed everything, from bookkeeping to product development. The company initially focused on non-electric fixie bikes, a category of fixed, single-gear bikes with no free-wheeling system.
In 2013, Aventon introduced its first product, the Aventon Mataró, a fixie bike with a modern, aerodynamic design. Its success in the Los Angeles area and Orange County helped put the company on the map, allowing JW's small enterprise to grow into one of the most well-known fixie bike manufacturers worldwide.
In the years that followed, Aventon gained additional recognition by expanding its product lineup and forming an official fixie bike racing team. Aventon's racing efforts paid off in 2015 when the Aventon Factory Team brought home a gold medal from the Red Hook Crit in Barcelona, Spain.


Aventon's Entry into the Electric Bike Market
In 2018, inspired by the rising popularity of electric vehicles (EVs) and increasing prevalence on the road, JW Zhang began Aventon's transition into an e-bike manufacturer. The company released two new products that year: the Kijote fixie bike and the first Aventon electric bike, the Pace 500.
The original Aventon Pace 500 was meant to feature a design inspired by standard bicycles and be as lightweight and practical as possible. Strong with years of experience manufacturing non-powered bikes, the Pace 500 achieved everything Aventon set out to do. It weighed less than 50 lbs., featured a 500 W electric motor and had a top speed of 28 miles per hour (mph), making it a Class 3 e-bike.
Most importantly, it looked almost indistinguishable from a standard, non-electric road bike, aside from the battery back strategically installed in the center of the frame. Reviewers at the time noted its MSRP of $1,400 was about half that of competing products, making it a fast and affordable electric bike.
The Pace 500 was highly successful, allowing Aventon to break into the e-bike market and begin development of new models.


Phasing Out of Fixie Bikes and E-Bike Development
While Aventon continued producing new fixie bikes and e-bikes for a few years after releasing the Pace 500, the company planned a gradual phase-out from the non-electric bike market. In 2019, Aventon announced their final fixie bike model, the Aventon Ultro, alongside their second e-bike model, the first version of the Pace 350.
In 2020, Aventon fully transitioned out of the fixie bike market and began expanding. Its production facilities moved from their original location in Los Angeles to a newer, larger manufacturing facility in Ontario, CA. The company expanded its e-bike product catalog the same year, introducing the city commuter Aventon Level and the compact, foldable Aventon Sinch.
The following year, in 2021, Aventon broke into the electric mountain bike (eMTB) segment with its first dedicated all-terrain model, the Aventon Aventure. This hardtail, aluminum-frame e-bike featured Aventon's latest technologies and innovations, helping it stand out from the competition. The original Adventure featured a high-capacity 720 Wh battery pack, a 750 W brushless rear-hub motor, a front suspension fork and 4" thick Kenda tires for maximum stability and off-road performance.


Current Aventon e-Bike Lineup
Today, Aventon is fully committed to its electric bike lineup, offering six different product families to suit all riding needs and styles.
Aventon Level
Aventon's family of city commuter bikes, with classic designs inspired by standard bicycles. The Level is designed to be easy to use and maintain, prioritizing comfort and convenience.
Aventon Aventure
A family of electric mountain bikes with fat tires. The Aventure's performance-oriented design lets riders explore all environments and ride fast on all surfaces.
Aventon Abound
Aventon's first cargo e-bike can support up to 440 lbs. of cargo on its rear rack, features integrated lights and provides electric assistance for up to 50 miles on a single charge.
Aventon Pace
The Pace models are part of Aventon's flagship electric bike family. Current models of the Pace offer high power and performance, ideal for road trips and cruising on asphalt.
Aventon Sinch
Aventon's family of innovative foldable e-bikes, recognizable by their low step-through frames and small fat tires. The Sinch e-bikes aim to maximize convenience without sacrificing performance.
Aventon Soltera
Aventon's lightest e-bike family, ideal for agile city commuting. All models in the Soltera range weigh less than 50 lbs., making them easy to maneuver.


Our Selection of Aventon Electric Bikes
Are you interested in finding high-quality, new or used electric bikes for sale? Check out Upway's selection of certified pre-owned Aventon electric bikes and find the model of your dreams at an affordable price.
Aventon Pace 500.3
The Aventon Pace 500.3 is the latest version of the Aventon Pace 500, originally introduced in 2018. The Pace 500.3 is the third revision of the Pace 500, further revising the design concept introduced by the original model: an e-bike intended to look as much like a standard road-going bicycle as possible. It achieves this with a sleek, slim frame and a battery pack fully flush with the central frame bar.
The Pace 500.3 lithium-ion battery pack has a capacity of 614 Wh, allowing it to power the 500 W electric motor and provide electric assistance for up to 60 miles. As a Class 3 e-bike, the Pace 500.3 will assist the rider at speeds up to 28 mph, allowing you to tear down the road quickly. Its hydraulic disc brakes are powerful and let you slow the bike down almost as quickly as it will accelerate, enhancing its agility and safety on the road.
The Pace 500.3's electric motor transmits power to the rear hub through a durable Shimano Altus 8-speed transmission and Innova sport tires. These characteristics allow riders to negotiate any curve and hill quickly and comfortably, making the Pace the ideal vehicle for road-tripping.
Aventon Aventure
The Aventon Aventure is Aventon's rugged and innovative hybrid electric mountain bike (eMTB). As the second version of the original Aventure, this offroad-ready e-bike includes Aventon's latest technologies and innovative features.
The heart of the Aventure 2 is its high-capacity 678 Wh battery pack. Depending on your riding style and habits, it can give riders an electric-assisted boost for up to 60 miles or more. The Aventure 2 is a Class 2 e-bike, letting you choose between the convenience of a throttle assist and a more active pedal assist up to 20 mph.
Like its predecessor, the Aventure 1, this model features 28" wide, 4" thick all-terrain Innova tires. The knobbly tire tread can handle any terrain, from city roads to the rockiest paths.
The fat tire construction also provides more traction and stability than standard-thickness eMTB tires, decreasing the risk of slipping or sliding on sand, mud or snow. When riding on stable surfaces like asphalt, they provide additional riding comfort, ensuring you can ride your Aventure 2 confidently no matter where you go.
Aventon Level
The Aventon Level is a convenient city commuting electric bike made using premium-quality materials and aiming to provide a comfortable everyday riding experience.
Whether you prefer a more relaxed ride or enjoy exercising with an extra boost, the Aventon Level 2 has every feature and accessory you need for city commuting or urban exploration. You'll find a comfortable saddle, 27.5" Arisun K-Rubber road tires and a rear-mounted baggage rack for a basket or bike-mounted bag.
The Level 2 is powered by the same 500 W electric motor as the Pace 500, fueled by a high-capacity 636 Wh battery pack. The motor delivers a maximum torque of 35 Nm, keeping the e-bike nimble and responsive in any urban environment.
Riders can choose from two levels of pedal assist: standard pedal assist level or an extra-comfortable throttle assist mode. While the Level 2's electric motor will assist you up to 20 mph, you can reach higher speeds by pedaling sufficiently hard. The maximum range on the highest assist settings is approximately 60 miles.
Aventon Soltera
Riders looking for a sleek, fast and budget-friendly e-bike should consider the Aventon Soltera 7. This e-bike is part of the Soltera product family, Aventon's lightest and most maneuverable city e-bikes. Renowned for their lightweight construction, simple design and low price, they are an excellent choice for everyday adventures or weekend-long road trips.
The Soltera 7 is a city e-bike primarily intended for flat roads and even surfaces. This model of the Soltera also features a low-step frame, making it easy to climb on and off the e-bike, so it is ideal for young riders, those with a petite frame, or people with limited mobility. Whether you need it to run errands, meet with friends or simply ride around your neighborhood, this e-bike is always ready for your next trip.
This e-bike is fitted with a pair of 28" Kenda Kwest road tires, offering a balance of performance, ride comfort and grip under all conditions. The shallow, semi-circular tread pattern was engineered to displace water, dirt or gravel, keeping the ride safe and comfortable.
Although the rear-hub 500 W electric motor fitted to the Soltera 7 is light, it can generate up to 45 Nm of torque, giving you plenty of acceleration. Its battery pack is also optimized for low weight and high performance, with a capacity of 345 Wh and a maximum range of 46 miles.
Aventon Sinch
The Aventon Sinch is the company's innovative fat-tire folding model, designed to prove that foldable bikes don't need to trade balance or ride quality for portability.
Like most folding e-bikes, the Sinch is a relatively low-riding, lightweight electric bike. The step-through frame design makes it easy to climb on for riders of almost any height, from 5' to 6'3". The folding mechanism allows you to bring it on the bus or the train. You can also store it securely at home, your workplace or anywhere else instead of leaving it on an outdoor bike rack.
The most important feature of the Aventon Sinch.2 is its 20" fat Arisun K-Rubber tires. While these unique tires are primarily intended for roads and city streets, they provide excellent ride stability and comfort even over bumps, gravel or potholes.
The bespoke 500 W electric motor designed for this model produces an incredible 80 Nm of maximum torque. It gives the Sinch.2 all the acceleration power you need to get up the steepest inclines, such as the hilliest streets of Los Angeles or San Francisco.


Find the Aventon Electric Bike You Need at Upway
Aventon is one of the pioneers of the electric bike industry, having been present on the market as early as 2018. Whether you need a convenient city commuter, a lightweight road e-bike, a rugged eMTB or simply a fast and practical everyday electric bike, Aventon offers numerous models to meet your needs.
At Upway, we are proud to offer a large selection of e-bikes from the California-based brand. We deliver our products anywhere in the Continental United States within 7 business days. Bought the wrong model? We understand. Take advantage of our 14-day return policy and have the cost of your e-bike refunded, plus shipping costs.
Selling your bike to Upway guarantees a reliable, hassle-free, trustworthy way to sell your electric bike and it will take you online 2 minutes!