Specialized vs. Giant Electric Bikes: Features, Performance, and More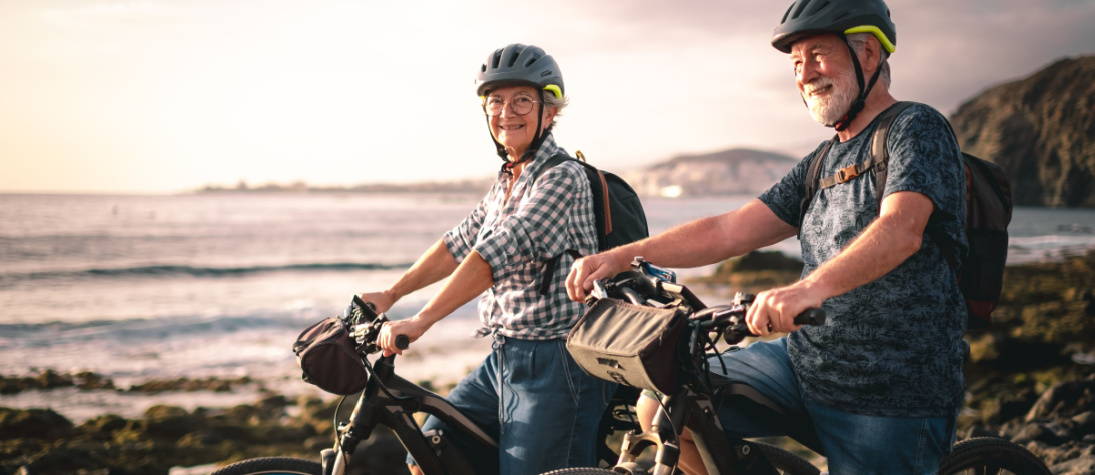 In the electric bike realm, Specialized and Giant are two standout names. They've both carved a niche with their innovative designs, dependable performance, and dedication to elevating the e-bike journey. Explore the main features and performance capabilities of each brand's bike to find the ideal electric bike to enhance your riding experience.


About Specialized e-Bikes
Specialized is a well-known name in the cycling world, celebrated for designing high-quality bikes for riders of all types. Founded in 1974 by Mike Sinyard, Specialized began as a bicycle component firm, first introducing a mountain biking tire. By 1981, they pioneered the iconic Stumpjumper, the first mass-produced mountain bike.
Specialized provides a variety of bikes, including the Enduro for mountain trails, the Tarmac for on-road cycling, the Sirrus for everyday commuting, and the Turbo Levo as their signature electric bike.
From a technological standpoint, their dedication to research and development is evident through innovations such as the SWAT storage system and Body Geometry Fit. Their FACT carbon frames showcase a blend of lightweight materials and exceptional strength, highlighting their commitment to quality and performance.
Giant is another heavyweight in the bike industry with a long-standing history of producing exceptional bicycles. Founded in 1972 in Taiwan by King Liu, Giant Bicycles started as an OEM, producing bikes for other brands. By the 1980s, they had established themselves as a global leader in the industry under their brand.
Giant offers a range of e-bikes, including the TCR and Defy for road racing, the Trance and Anthem for mountain biking, and the Escape and FastRoad for city commuting. Additionally, they have e-bikes such as the Road E+ and Explore E+, which use cutting-edge battery technology.
Giant has introduced several key innovations. They developed the ALUXX Aluminum Technology to balance frame strength and weight. For mountain bikes, they introduced the Maestro Suspension. Additionally, they brought a fresh approach to road bike design with their Compact Road Design.
Bike Comparison: Specialized vs. Giant
When weighing the options between Giant and Specialized electric bikes, you'll want to consider factors like how quickly the battery charges, the motor's power, the materials, and the overall design. Both brands, being major players in the e-bike world, have their own unique strengths to consider.
Battery Charge Times and Lifespan
Specialized bikes are notable for their rapid battery charging capabilities, ensuring shorter wait times during recharging. Specialized's batteries, including those on the Turbo Levo and Vado, offer a fast-charge feature, which can charge the battery up to 80% in a shorter amount of time, often around 2-3 hours. Specialized batteries are also engineered for long-term performance, ensuring riders can enjoy their e-bikes for extended periods without significant battery deterioration.
Giant produces dependable battery systems for their electric bikes. Most of their latest e-bike models feature the EnergyPak System, although some come with the EnergyPak Smart system, which can charge up to 80% in 2.2 hours. While their standard charging times may not match Specialized's speed, Giant's batteries are designed for lasting durability, promising resilient performance.
Motor Power
Specialized Turbo range of bikes are renowned for their potent motor power, which all deliver a nominal output of 250 W, with many models delivering up to 560 W at peak power, helping you attain top speeds of 28 mph when pedaled. Whether conquering steep inclines or seeking an exhilarating ride, Specialized e-bikes provide the necessary power.
Giant e-bikes equipped with the SyncDrive motor offer a different but equally impressive ride. The motor is finely tuned for high-performance e-biking and delivers consistent power for everyday commuting and off-road adventures.
Materials
Both Specialized and Giant maintain high material standards for their e-bike frames. Specialized incorporates advanced materials, including carbon frames in select models. Carbon frames are renowned for their lightweight yet ruggedly durable properties, making them agile and dependable enough for high-performance eMTB bikes and road bikes.
Giant opts for the durability of 6061 aluminum alloy frames in many of its models. Aluminum frames offer strength and responsiveness, ensuring a comfortable and enjoyable ride. This choice guarantees the frame's reliability and keeps the price tags reasonable in entry-level models, making Giant e-bikes accessible to a broad spectrum of riders.
Aesthetics
Specialized e-bikes often feature sleek designs with contemporary color schemes. Their designs are known for their clean lines and stylish appearances, making for an eye-catching ride.
Giant leans slightly more toward classic and traditional designs. While their e-bikes may exhibit a more timeless elegance and style, they remain aesthetically pleasing with a focus on a modern profile.
Both Giant and Specialized have an extensive selection of popular e-bike models catering to various riding styles and tastes. A few of their standout models include:
Hybrid City E-Bikes
With hybrid city e-bikes, Specialized's Turbo Vado 4.0 and Giant's Roam E+ STA offer excellent options. Specialized's seamlessly blends style, performance, and convenience, making it an ideal choice for city exploration. Its powerful motor, intuitive controls, and comfortable design create a dynamic and electrifying journey.
This Giant Explore E+ STA is tailored for city and light trail riding, providing versatility and utility for daily commuting and family trips. It features Yamaha's pedal-assist motor for smoother hill climbs and a robust suspension fork for tackling rough terrain.
Mountain E-Bikes
The Specialized Turbo Levo Alloy and Giant Explore E+ 4 GTS are standouts for off-road adventures. Specialized e-bikes are known for there durability and electrifying performance, thanks to its robust aluminum frame and full rear suspension. It's designed for those who seek the thrill of mountain biking with the added assistance of electric power.
Giant's Explore E+ 4 GTS caters to riders who desire versatility and performance. A reliable frame and responsive electric motor deliver a balanced blend of power and efficiency. Whether you're commuting in the city or exploring various terrains, this hardtail Giant electric bike offers a comfortable and eco-friendly mode of transportation.
Road E-Bikes
Specialized's Turbo Como SL 4.0, a lightweight and comfortable e-bike, is an ideal choice for flat paved roads. Its versatile design caters to commuters, leisurely riders, and explorers.
Giant's Fastroad E+ EX is designed for speedy city commuting. The bike features stylish fenders and a solid rear rack, making it functional and comfortable in any weather. This e-bike is an excellent choice for everyday adventures, especially when tackling steep climbs.


Shop Specialized and Giant E-Bikes at Upway
Whether navigating city streets, conquering off-road trails, or enjoying leisurely rides, Upway has Giant and Specialized electric bikes for sale to meet your needs. Discover the perfect electric bikes for your next journey, and set off on your cycling adventures today.
Selling your bike to Upway guarantees a reliable, hassle-free, trustworthy way to sell your electric bike and it will take you online 2 minutes!