Best Electric Cargo Bikes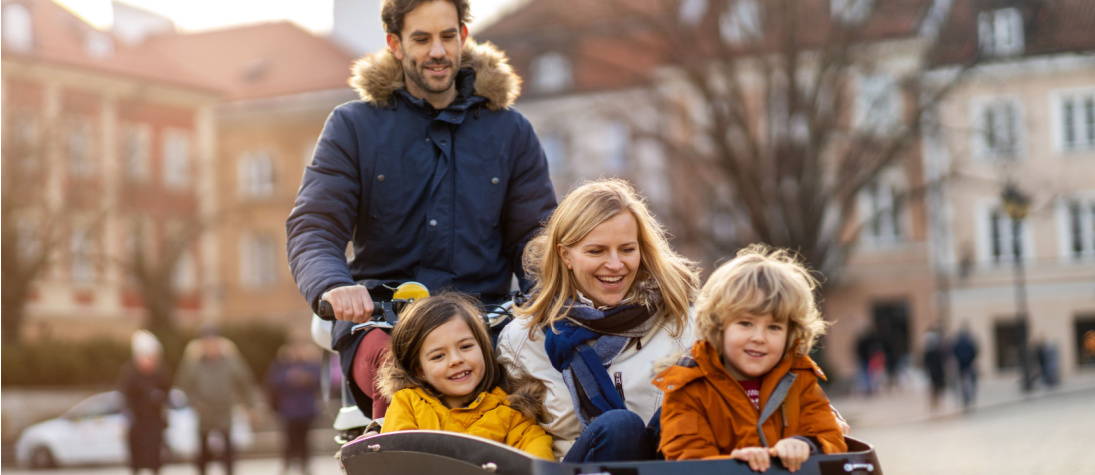 When it comes to cycling, you may think of the speed, agility, and freedom an e-bike provides. But what if your electric bike could offer even more—the ability to carry heavy loads like groceries or camping gear? Electric cargo bikes, also known as cargo e-bikes, can transform how you move and transport goods.
Discover how an electric cargo bike can improve your biking experience, whether you're tackling daily errands or planning exciting family adventures.


Top Electric Cargo Bike Models
Numerous cargo bike models are available for a range of needs, from hauling heavy loads to transporting passengers. Some of the top models available at Upway include:
Benno Boost E 10D Low-Step
The Benno Boost E 10D Low-Step is a cargo e-bike engineered to carry over three times the load of a typical bike, thanks to its spacious rear rack. Powering the rugged frame is the industry-leading Bosch mid-drive electric motor and a powerful 400 Wh battery. Its step-thru frame makes it easy to mount and dismount the bike, even while carrying a full cargo load.
Blix Packa Genie Dual Battery
The Blix Packa Genie e-bike is the perfect city cargo bike for riders and bike couriers who regularly need to scale inclines with its powerful 90 Nm torque motor. Featuring a dual battery system, including a long-range 614 Wh battery, it ensures you won't run out of power during your adventures. With a high-end Shimano Acera 7-speed transmission and the option for both throttle and pedal assist, it strikes a perfect balance between power and convenience.
Momentum PakYak E+
Tailored for cargo enthusiasts, the Momentum PakYak E+ handles your transportation needs effortlessly. With a potent SyncDrive motor and an integrated EnergyPak battery, this front loader ensures a smooth ride, even when fully loaded. Its rugged aluminum frame, comfortable saddle, dependable disc brakes, and ample cargo area make it the ultimate choice for grocery runs, commuting, or leisurely town rides.
Tern HSD P9
The Tern HSD P9 redefines compact cargo e-bikes with versatility. Propelled by a Bosch Active Line motor and a 400 Wh battery, it offers sustained pedal assist for cargo hauling or daily rides. Its extra-long Atlas H Rack™ provides ample space for a child seat, ensuring a comfortable ride. It's compatible with the Clubhouse Fort Mini rain cover, making it an all-weather solution for transporting your little one year-round.
Tern GSD
The Tern GSD stands out as a game-changer in the realm of compact cargo e-bikes. With its robust Bosch Performance Line CX motor and an impressive 500 Wh dual-battery system, it's built to tackle extensive cargo loads and long rides with ease. The GSD offers versatility with an adjustable rear rack that can adapt to various cargo configurations or accommodate a second battery. Perfect for errands or family adventures, this bike delivers exceptional performance in a compact package.
Riese & Muller Load75
The Riese & Muller Load75 is a cargo e-bike designed for the most demanding hauling tasks. With a powerful Bosch Performance Line CX motor and a choice of battery configurations, you can customize your power and range. Its dual-suspension design ensures a smooth ride even over rough terrain, making it ideal for families or businesses. The Load75 offers an exceptional cargo capacity and stability, making it a top choice for heavy-duty transport needs.
Urban Arrow Family
The Urban Arrow Family is tailor-made for families on the go. This electric cargo bike boasts a reliable Bosch Performance Line motor and a substantial 500 Wh battery, ensuring you can confidently navigate urban streets or scenic routes. The spacious front cargo box accommodates your most precious cargo - your children - and offers room for groceries or other essentials. With its nimble handling and thoughtful design, the Urban Arrow Family makes family outings and daily commutes a breeze.


Questions to Ask Before Buying an Electric Cargo Bike?
If you are considering buying a cargo bike for your daily commute, there are several important questions to ask to determine if it is the right choice for your lifestyle.
How long do electric bikes last?
How long an electric bike lasts depends on several factors. Regular maintenance, such as checking the brakes, tires, and electrical components, can extend its life. The battery typically has a lifespan of about 500 to 1,200 charge cycles. After this period, the battery might require replacement, but if well-maintained, the rest of the bike can continue to be used for many additional years.


Are electric bikes street legal?
It's vital to understand if your electric bike is street legal before making a purchase. While most U.S. states have embraced them as a legal mode of transportation, the specifics can vary. Factors like top-assisted speed, motor power, and the presence of pedals can influence their classification. Always check state and local regulations and required permits or licenses to ensure you ride legally and safely.


What is the bike's weight capacity?
Electric cargo bikes are designed to be durable and versatile, but you need to know the maximum weight capacity of the bike model before you buy it. While the weight capacity can differ based on the model and manufacturer, most can support at least 450 lbs. This includes everyday items like groceries and work equipment, but they can also safely transport children in specially designed-seats or carriers.


Shop Premium Refurbished Cargo e-Bikes at Upway
Electric cargo bikes are not just an eco-friendly mode of transportation; they're a lifestyle upgrade that offers versatility, comfort, and the ability to carry heavy loads effortlessly. If you've ever asked yourself, "Should I get an electric bike?"–now is the perfect time to explore the extensive range of high-quality electric cargo bikes available at Upway.

Selling your bike to Upway guarantees a reliable, hassle-free, trustworthy way to sell your electric bike and it will take you online 2 minutes!