Best Folding Electric Bikes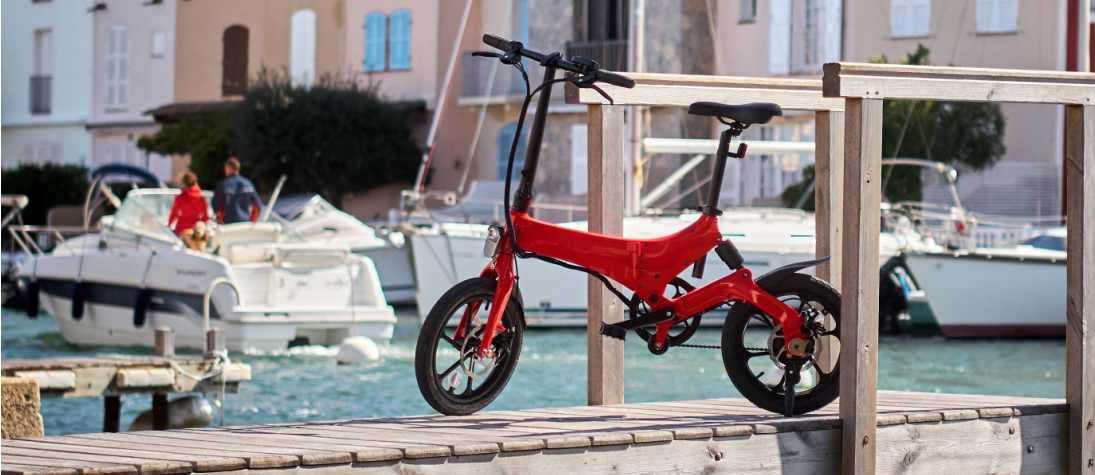 As urban landscapes evolve and transportation options expand, folding electric bikes are one of the most convenient and eco-friendly solutions available to commuters and urban explorers.
Whether you need to navigate bustling city streets or explore scenic trails, folding electric bikes offer a compact and versatile mode of transportation. Find the folding electric bike that suits your needs at Upway today.


What is a Folding Electric Bike?
A folding electric bike combines the compactness and portability of a folding bike with the convenience and assistance of electric bikes. Most electric folding bikes are designed for urban dwellers and have comparable performance to standard city-commuting e-bikes.
Folding e-bikes feature a sturdy frame manufactured from lightweight materials, such as aluminum or carbon fiber. These materials offer sufficient durability while keeping the overall weight down, making them easier to transport.
While each model features its own folding mechanism, it generally allows the rider to collapse the e-bike into a convenient, easily portable form. When folded, they take up minimal storage space, making it easy to stow in a car, a train's luggage compartment, at the office or at home.
Electric motors on folding e-bikes tend to be on the lower end of the power scale, typically around 500 W, to limit their overall weight. However, many folding e-bike models have a high torque output, enabling easier uphill climbs and fast acceleration under any condition.
There are several types of bike batteries offering varying capacities and power levels. The right battery for your bike depends on how frequently you ride, the terrain you travel, and whether you carry passengers or cargo. Some of the most common battery types include:
Whether you need to commute through the city or want to bring an electric bike with you in public transportation, foldable electric bikes are an excellent means of transport. Upway carries a selection of high-quality, certified pre-owned folding e-bikes from reputable manufacturers, such as Aventon and Gocycle
The
Aventon Sinch
is a versatile foldable e-bike built to tackle any type of road surface. It features 4" Kenda Krusade fat tires and a front suspension fork to help it ride over any uphill on both concrete and trails. This UL-certified bike also features an adjustable seat, allowing anyone from 5' to 6'3" tall to ride it comfortably.
The Sinch's motor is 500 W and a zippy 80 Nm, allowing it to reach its top speed of 20 mph within seconds. The 672 Wh battery pack provides enough power to last up to 30 miles on throttle alone and up to 71 miles with pedal assist. Its rear-mounted rack can help you transport up to 300 pounds of cargo.
The Gocycle GS is an affordable electric bike with a simplistic, purpose-driven design. It is one of the lightest and most convenient electric bikes on the market. The
Gocycle GS
features a lightweight, injection-molded magnesium frame so it only weighs 35 lbs. The Gocycle GS is not only handy and easy to transport, but it can also fold down into a highly compact package. It can fit into a dedicated carrying bag when fully collapsed and folded for convenient transportation.
While the Gocycle GS features a relatively limited battery capacity of just 300 Wh, it contributes to the e-bike's low weight and compactness. Even then, the manufacturer states the GS's maximum range is up to 40 miles, making it ideally suited for commuting or city cruising.
Additionally, riders can quickly recharge the GS's battery even when near-depleted. When paired with the Gocycle fast charger, the battery can be recharged from empty to full in just 3.5 hours.
Like the GS, the Gocycle G3 features a minimalist design and lightweight materials, including a magnesium alloy frame. The G3's overall weight is 37 lbs. just two more than the Gocycle GS.
Although the G3 is designed to be as easy to fold, carry and transport as possible, it does not compromise on ride quality and range. It features high-quality 20" Schwalbe Big Apple tires, featuring square treads designed for maximum riding comfort on asphalt while providing ample traction.
The 500 W, 85 Nm electric motor can bring the G3 to its top speed of 20 mph quickly and its 300 Wh battery pack will keep you on the road for up to 50 miles.
While the frame is relatively short, it is designed to accommodate most riders. The G3 is recommended for riders ranging between 5'3" and 6'5" in height, making it a good fit for nearly anyone.


Find Your Foldable Bike at Upway
For anyone wondering, "
should I get an electric bike
," the primary reasons to consider one are cost-efficiency, eco-friendliness and fitness potential. E-bikes do not require costly fuel, are inexpensive to keep charged and produce no harmful emissions.
Even with an electric motor and pedal assist, e-biking offers the same benefits for your health as regular bicycles. The motor's electric assistance provides you with the power you need to pedal up any hill or incline without over-exertion, keeping you cycling longer and with better regularity.
If you want to get started with a
used electric bike
, visit Upway. Our extensive collection of professionally refurbished electric bikes ensures that there is a folding model to fit your needs at a reasonable price. Explore the complete selection of folding electric bikes at Upway today!
Upway offers the widest range of certified pre-owned electric bikes, reconditioned by professional mechanics.
Thanks to Upway, you'll get a great electric bike at a price that's 20-60% off retail, with a one-year warranty!