Best Electric Bikes for Heavy People
There's no one-size-fits-all solution when shopping for the perfect electric bike for heavier riders. Instead, it's about finding the ideal balance of features that ensure a comfortable, powerful and safe ride.
From fat tires that provide stability and heavy-duty brakes for stopping power to a high-weight capacity frame that can handle the load, discover electric bikes designed to ensure every journey is safe and enjoyable.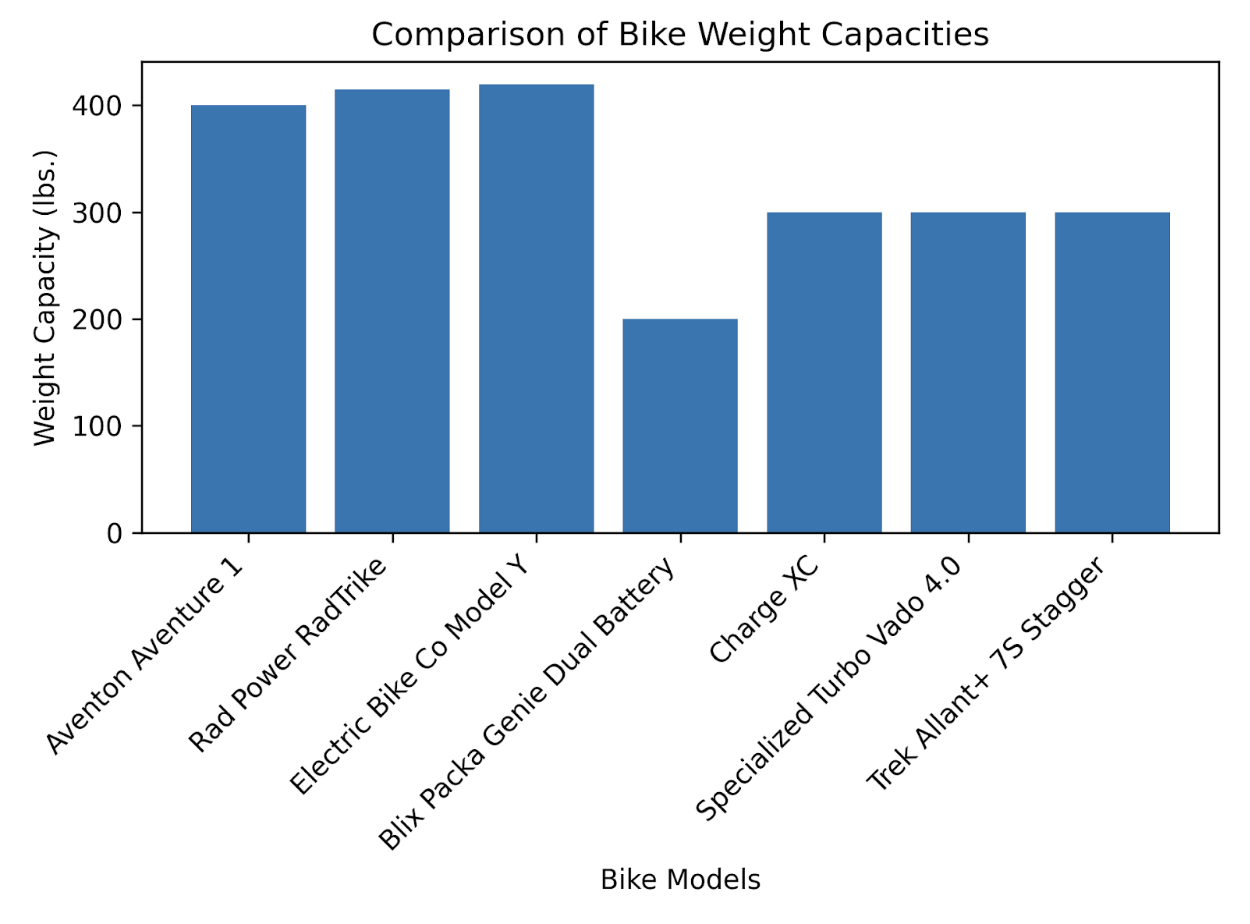 Understanding Your E-Bike Needs
Aventon Aventure 1
The Adventure 1 by Aventon perfectly combines sleekness, ruggedness and versatility. Its sturdy frame can support up to 400 lbs., so it's perfect for heavier riders and hauling gear or cargo.
To tackle varying terrains, the bike's 4" fat tires ensure stability, while its hardtail suspension focuses on absorbing front-end bumps, giving riders a balanced and comfortable experience.
When you face steep inclines, the powerful 750 W motor offers that extra boost and you can rely on the hydraulic disc brakes for smoother stops. The 720 Wh battery capacity ensures your adventures last longer, while the Shimano Acera gear system offers seamless shifts. Plus, you can tailor your ride to the terrain with pedal and throttle assistance options.
Rad Power RadTrike
The Rad Power RadTrike is a unique electric tricycle designed for stability and comfort during daily errands. It features a low-step frame and smaller wheels for easy accessibility, an adjustable saddle for a more comfortable riding position and a high-capacity cargo area, making it excellent for shopping and a long, leisurely ride through the countryside. With a maximum weight capacity of 415 lbs., this e-trike is a perfect choice for heavier riders.
Powered by a 750 W geared hub motor and a long-lasting 48 V lithium-ion battery, it ensures a reliable and effortless ride. The RadTrike also offers five levels of pedal assist and a twist-grip throttle, providing a versatile riding experience.
Electric Bike Co Model Y
The Electric Bike Co Model Y is the epitome of comfort and style in an electric bike. Its step-through frame design offers easy mounting and dismounting, making it accessible and convenient for a wide range of riders.
This e-bike is designed to support riders with a weight capacity of up to 420 lbs. It features a 6061 aluminum hydro-formed frame, heat-treated for added strength. And, unlike most electric bike frames, which are typically only 1.5 mm thick, the Model Y's frame is 3 mm thick in critical areas for maximum support and durability.
In addition to a sturdy frame, the bike is powered by a 500 W electric motor that produces 60 Nm of torque. This is perfect for cruising the city streets and laneways and climbing hills.
Blix Packa Genie Dual Battery
The Blix Packa Genie e-bike has a strong Blix engine that provides 90 Nm of torque, making every ride effortlessly enjoyable. With a dual battery system, including a long-range 614 Wh battery, you'll always have plenty of power for your adventures.
You can carry up to 200 lbs. in 200 different combinations, thanks to the Blix modular rack system, which includes smart mounting points in the front and rear rack, allowing you to add various Blix accessories. The rear motor continuously provides 750 W of power output, with even higher peak output during short periods when needed, making it a perfect bike for heavy riders and steep hills.
Charge XC
The Charge XC electric bike is the perfect light mountain bike, with the versatility to carry daily cargo or accommodate weekend trips with children. Its powerful 250 W mid-drive motor offers an exhilarating pedal-assist experience, helping you speed up hills. The integrated removable battery ensures you can get up to 50 miles on a single charge and easily recharge the battery on or off the bike.
The Charge XC has a max weight of 300 lbs., providing sturdy support for heavier riders. With a suspension fork to ensure a smooth ride on all surfaces, this e-bike is built for both comfort and performance.
Specialized Turbo Vado 4.0
Experience urban exploration like never before with the Specialized Vado 4.0. This e-bike is designed to seamlessly blend style, performance and convenience, making every ride an adventure. With its powerful motor, intuitive controls and comfortable design, the Specialized Vado 4.0 lets you easily navigate city streets.
With a Turbo Full Power 2.0 motor and a 710 Wh battery that produces 50 Nm of torque, it is an excellent choice for paved roads and can reach a top speed of up to 28 mph. And, with a weight capacity of 300 lbs. and a rugged E5 aluminum frame, it can easily support heavier riders.
Trek Allant+ 7S Stagger
The Trek Allant+ 7S Stagger is a high-performance e-bike that blends a stylish design with superior functionality. It comes with a Bosch Performance Speed motor and a removable integrated battery for extended range, while the stagger frame design allows easy mount and dismount.
It also includes a 10-speed Shimano drivetrain, providing smooth shifting for different riding situations. This e-bike has a maximum total weight limit of 300 lbs., making it a reliable choice for heavier riders.

Juiced Scorpion
The Juiced Scorpion electric bike is a powerful and stylish option designed to handle various terrains with ease. With a maximum weight capacity of 275 lbs., it's suitable for a range of riders. This e-bike boasts a 750 W Bafang motor that provides plenty of torque, ensuring you can tackle steep inclines and rough paths. Plus, the Scorpion features a 52 V battery with impressive range, perfect for extended adventures.
Hurley H-52
The Hurley H-52 electric bike is a high-performance choice with a maximum weight capacity of 350 lbs. Its robust design and exceptional power make it ideal for riders seeking an adrenaline rush. The H-52 is equipped with a 1,000 W motor and a large 52 V battery, delivering incredible speed and range. Whether you're exploring rugged trails or commuting through the city, this e-bike offers a thrilling and reliable ride.
These are just a few of the outstanding electric bike options available, each catering to specific needs and preferences. When selecting the best electric bike for you, consider factors like terrain, weight capacity, and desired features to make an informed choice that suits your riding style.


Enjoy the Rush of an Electric Bike With Upway
Whether you're a seasoned e-biker or a newbie looking for a thrilling ride, Upway offers an exciting range of electric bikes for sale. Our commitment to quality and affordability ensures that everyone can experience the excitement of e-biking without breaking the bank.
Explore our affordable electric bike collection that accommodates heavier riders to find the perfect model for your needs. Join the e-biking revolution with Upway's e-bikes and benefit from our rigorous 20-point inspection to ensure the safety and performance of your bike.
Selling your bike to Upway guarantees a reliable, hassle-free, trustworthy way to sell your electric bike and it will take you online 2 minutes!