Colorado E-Bike Rebate - Community Access to Electric Bicycles Rebate Program

Attention, Colorado cyclists! If you've been thinking about upgrading to an e-bike, now's the perfect moment. The state of Colorado is encouraging its residents to go green and adopt a more sustainable mode of transportation. The State of Colorado's E-Bike Rebate Program is designed to help low- and moderate-income Coloradans offset the cost of an e-bike as well as biking equipment, such as a helmet or bike lock.

Lucky recipients will gain vouchers of up to $1800 towards an e-bike!
Rebates are rolled out to Colorado residents who apply for the Community Access to Electric Bicycles Rebate program. To be eligible for an e-bike rebate, you must be a resident of the State of Colorado, 18 years of age or older, and income-qualified. Full details can be found here.
After you apply, a lottery system is applied to select candidates. These lotteries are ran on a rolling basis every few weeks.
If you have any questions about the program specifically, you can reach out to the rebate service team at the follow:
Phone: 833-933-9602
Email: ebikescolorado@aptim.com
The next application round for e-bike rebates will open at 10:00 AM MT on Monday, November 6 and will close at 4:00 PM MT on Monday, November 13. During this application window, applicants will register their email in the system.
The program will randomly select applicants from the first application round to complete their application for a rebate. Randomly selected awardees will be notified via email on Monday, November 13. If awarded a rebate, applicants have 48 hours to upload the required proof of residency and income-eligibility. Find the list of acceptable documentation below in the "Participant Eligibility" section.
As part of the application, applicants will be required to pre-select the rebate they want (e.g. e-bike, e-cargo bike, or adaptive e-bike). Once selected, an applicant cannot change to another e-bike type. Adaptive e-bikes on our website are our tricycles.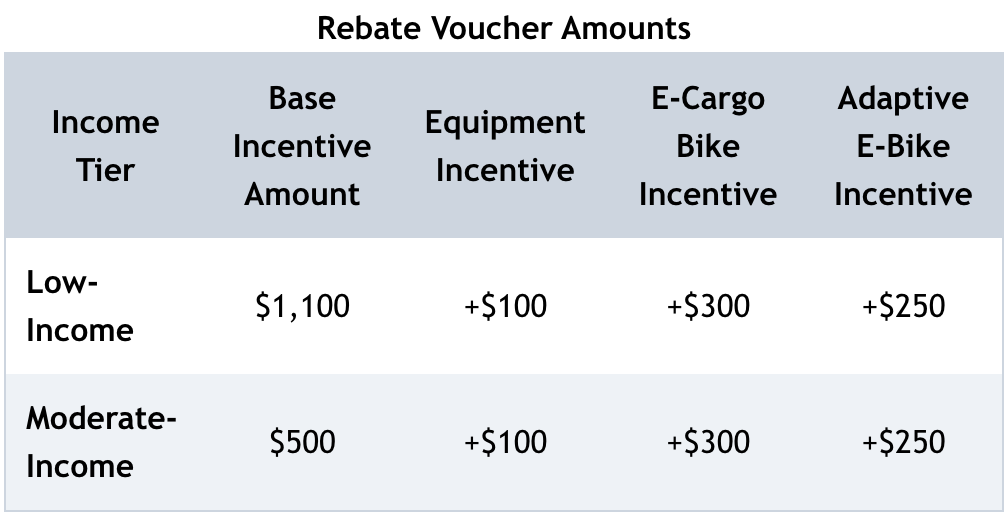 The rebates provided by the program are eligible for our
standard bikes
,
cargo bikes
, or
accessories
(lock or helmet). The links will take you to preset filters of our eligible products.
Class 1, 2, or 3 e-bikes are all eligible
The bike must be new
The motor wattage must not exist 750W
Full-suspension eMTBs are not eligible for the rebate
For standard bikes, there is no minimum purchase price, but the maximum price of an eligible bike is $5,000
For cargo bikes, there is no minimum purchase price, but the maximum price of an eligible bike is $8,500
Purchase price is defined as the cost on our website (not including tax and shipping)